Kubernetes Pi Cluster relase v1.3
Apr 5, 2022 • ricsanfre
Today I am very happy to announce the third release of Kubernetes Pi Cluster project (v1.3).
Main feature included in this release: adding service mesh architecture based on Linkerd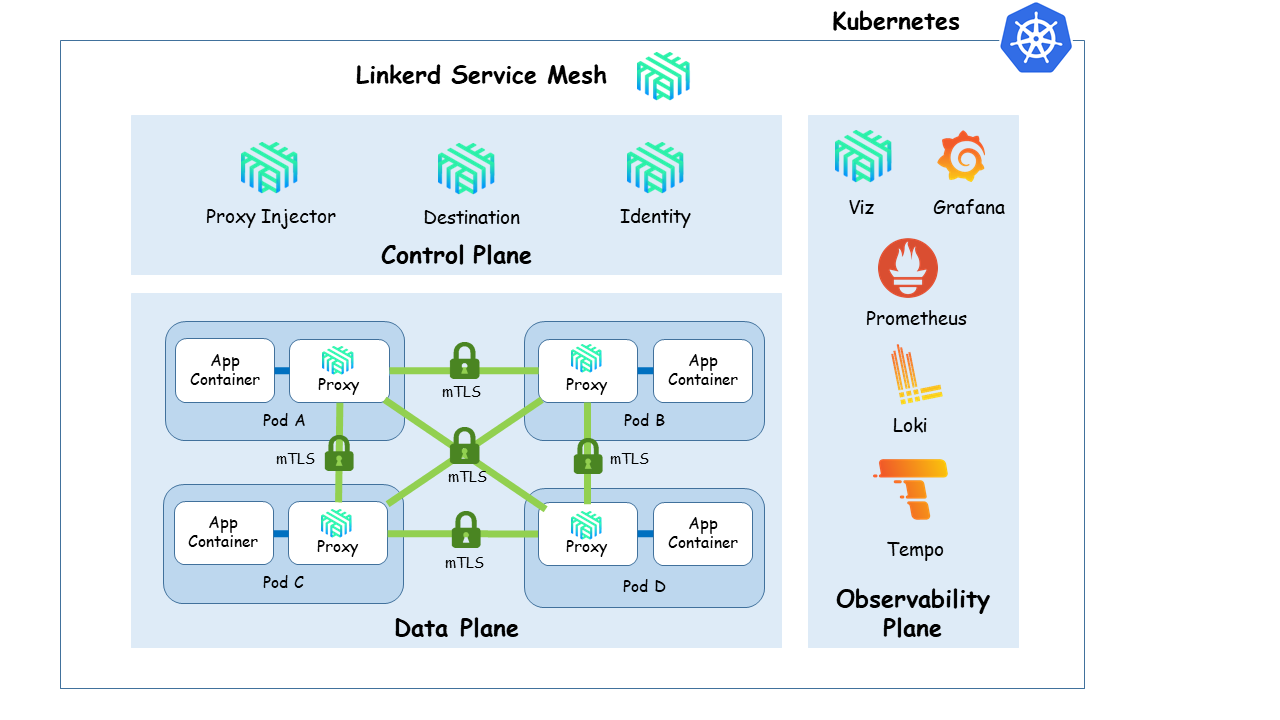 The journey so far
This is the summary of the functionality added by the different releases of the project
Release v1.3.0 - 2022-04-05
Adding service mesh architecture to kubernetes cluster
Release Scope:
Deployment of Linkerd service mesh architecture
Linkerd integration with Cert-manager for automatically generate Linkerd trust anchor and rotate Linkerd identity issuer certificate and private keys.
Meshing cluster services with Linkerd.
Disabling Elasticsearch TLS default configuration. Secure communications provided by Linkerd.
Release v1.2.0 - 2022-02-03
Launched of this website (picluster.ricsanfre.com) and improvements in logging and monitoring solution
Release Scope:
New project website (picluster.ricsanfre.com) created from previous documentation files using Jekyll and GitHub pages
Fluentbit as unique logs collector solution (Fluentbit replacing Fluentd within the cluster)
Adding Velero and Minio Metrics to Prometheus
Activating Traefik's access logs and integrate them into EFK
Release v1.1.0 - 2021-12-31
Redesign of the hardware architecture adding local storage (SSD disks) to all cluster nodes and including backup solution for the cluster based on Velero/Restic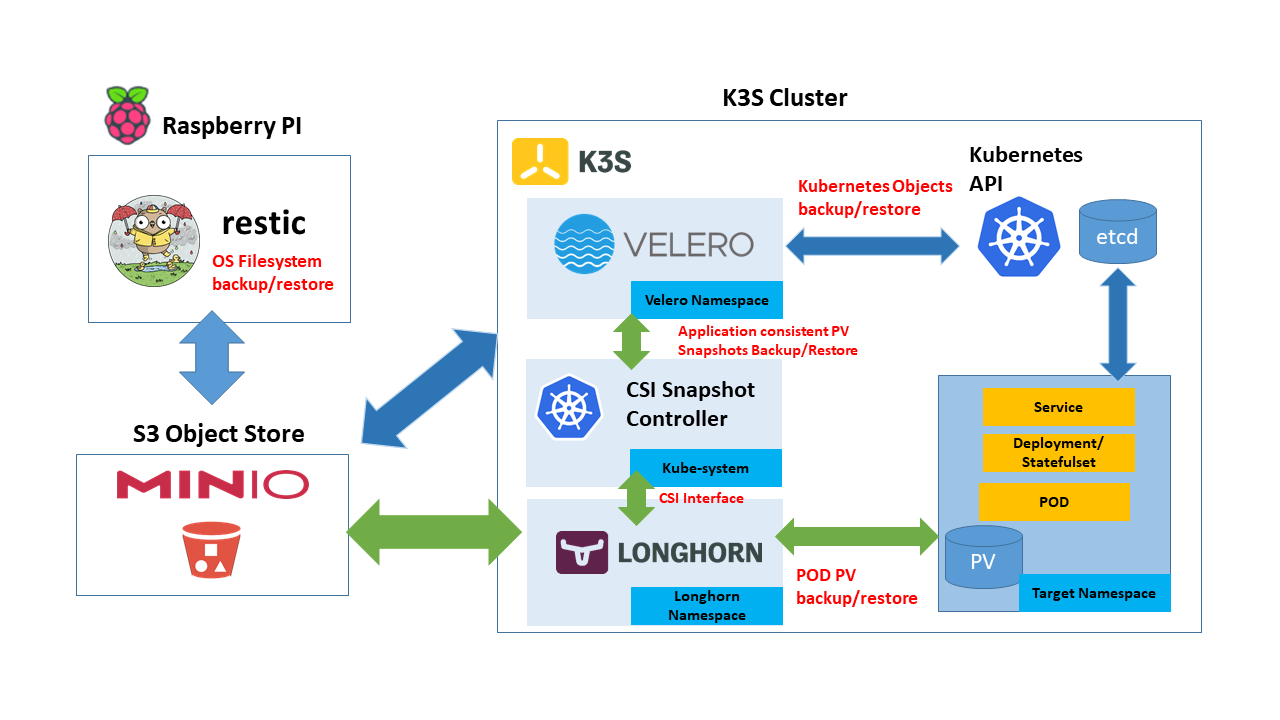 Release Scope:
New cluster hardware. Supporting two different cluster storage architectures (centralized SAN and dedicated disks)
Cluster backup solution based on Minio S3 server, Velero and Restic
Ansible playbooks refactoring
Traefik and Longhorn metrics integrated into Prometheus
Release v1.0.0 - 2021-11-18
Initial complete release. First cluster hardware architecture using USB Flash-drives for booting the Raspberry Pis and building a iSCSI SAN server for providing local storage to cluster nodes.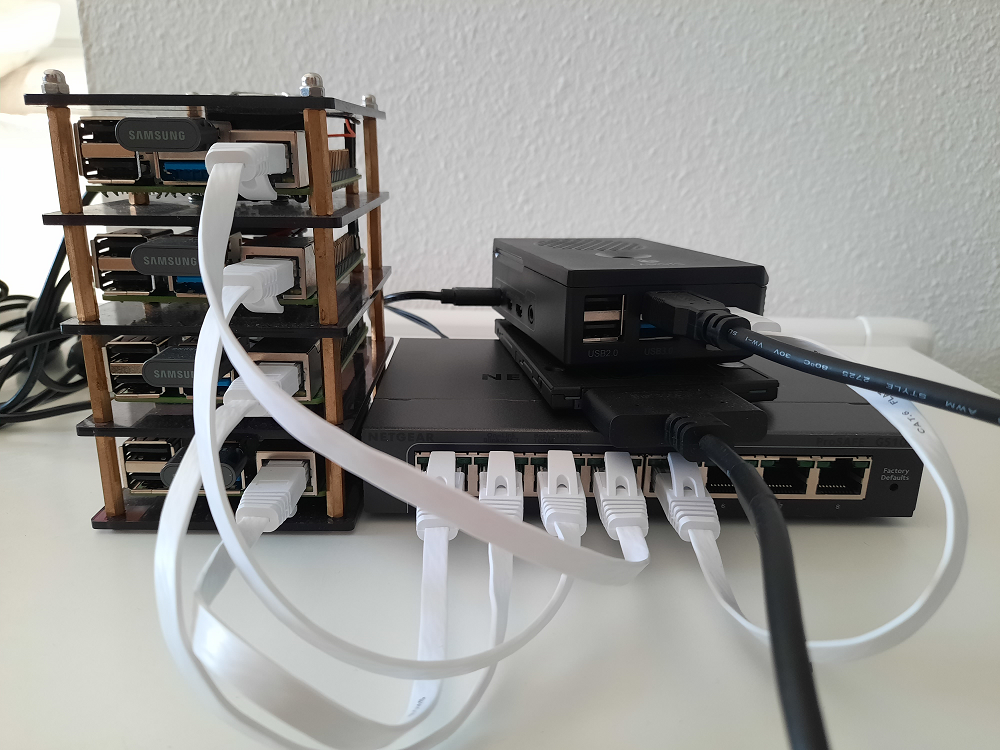 Release Scope:
Kuberentes K3S deployment on Raspeberry-PI 4 based nodes
Centralized Storage Architecture using iSCSI SAN server.
Configuration of basic Kubernetes services

Traefik as Ingress Controller
Metallb as Load Balancer
CertManager as SSL certificates manager
Longhorn as distributed storage solution
EFK as centralized logging solution
Prometheus as monitoring solution

Automation through cloud-init and Ansible

Cloud-init configuration files for initial setup of the cluster nodes
Ansible playbooks and roles for automatically configure OS, install K3S and install basic services

Documentation of the installation and configuration process
Comments:
---